From my Wishlist è una rubrica a cadenza settimanale ideata da Giusy di Divoratori di Libri. Se volete partecipare vi basterà condividere tre libri della vostra lista dei desideri che rientrano nel tema della settimana! 😀
Oggi si parla di:
Tre libri con personaggi che non vediamo l'ora di conoscere
Titolo: UnchainedSerie: Nephilim RisingAutore: J. Lynn aka Jennifer L. ArmentroutInedito in Italia
Between the pissed off creatures that want demon-hunter Lily Marks dead and the fallen angel who just…wants her, Lily is about ready to trade in forever for a comfy job in a cubicle farm. The fact that she and Julian are civil to one another is enough to have her thrown out of the Sanctuary, but she can't shake her not-so-angelic stalker or how he brings her dangerously close to ecstasy. Her forbidden relationship with Julian provides the perfect fuel for suspicion when a traitor is discovered to be working within the Sanctuary. Lily quickly finds herself hunted by well, everyone. Her only hope is to discover the real traitor before she loses everything–and she'll need Julian's help. That is, if Julian is really there to help her…and not destroy her. Yeah, being a Nephilim isn't everything it's cracked up to be.

Titolo: Juliet Immortal
Serie: Juliet Immortal, book #1
Autore: Stacey Jay
Inedito in Italia
The most tragic love story in history . . . Juliet Capulet didn't take her own life. She was murdered by the person she trusted most, her new husband, Romeo Montague, a sacrifice made to ensure his own immortality. But what Romeo didn't anticipate was that Juliet would be granted eternity, as well, and would become an agent for the Ambassadors of Light. For 700 years, she's fought Romeo for the souls of true lovers, struggling to preserve romantic love and the lives of the innocent. Until the day she meets someone she's forbidden to love, and Romeo, oh Romeo, will do everything in his power to destroy that love.
"These violent delights have violent ends And in their triumph die, like fire and powder, Which as they kiss consume." —Romeo and Juliet by William Shakespeare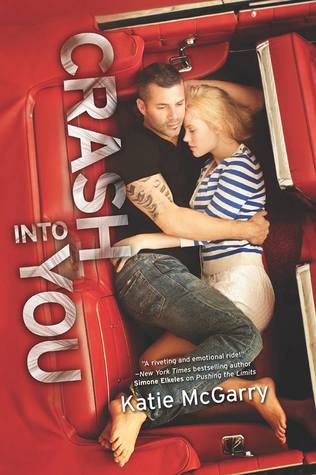 Titolo: Crash into You
Serie: Pushing the Limits, book #3
Autore: Katie McGarry
Inedito in Italia
The girl with straight As, designer clothes and the perfect life—that's who people expect Rachel Young to be. So the private-school junior keeps secrets from her wealthy parents and overbearing brothers…and she's just added two more to the list. One involves racing strangers down dark country roads in her Mustang GT. The other? Seventeen-year-old Isaiah Walker-a guy she has no business even talking to. But when the foster kid with the tattoos and intense gray eyes comes to her rescue, she can't get him out of her mind. Isaiah has secrets, too. About where he lives, and how he really feels about Rachel. The last thing he needs is to get tangled up with a rich girl who wants to slum it on the south side for kicks-no matter how angelic she might look. But when their shared love of street racing puts both their lives in jeopardy, they have six weeks to come up with a way out. Six weeks to discover just how far they'll go to save each other.
Dopo aver letto i commenti di Viola su Isaiah, protagonista maschile di Crash into You, la mia curiosità ha preso il sopravvento. Lo devo conoscere. Non c'è altra soluzione! *-*
Così come sono molto curiosa di conoscere anche i personaggi di Unchained semplicemente perchè scritto da colei che ha dato vita a Daemon e Seth… Armentrout, se il lui di Unchained è affascinante anche solo la metà di Daemon… Lo. Devo. Conoscere! xD
Riguardo Juliet Immortal, sono molto curiosa di scoprire se l'autrice sia riuscita a rendere i personaggi di Juliet e Romeo interessanti come la trama lascia intendere. Anche se un pò temo che abbia rovinato i personaggi di Shakespeare…
Quali sono i vostri tre libri con dei personaggi che non vedete l'ora di conoscere? 😀